>
>
Digital agency renews lease, plans Clark Tower expansion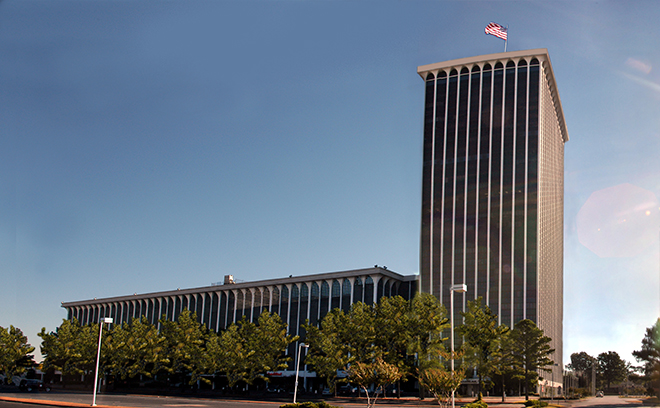 Digital agency renews lease, plans Clark Tower expansion
Wunderman Memphis, a full-service digital affiliate of multinational advertising and public relations company WPP PLC (NASDAQ: WPPGY), renewed its lease and is taking more space in Clark Tower.
Local architects The Crump Firm and Clark Tower LLC filed July 29 a $63,640 building permit for new tenant space renovations as part of Wunderman Memphis' expansion.
Howard Graham, senior vice president of Wunderman's Digital Performance Media group, said the Memphis office is taking an approximately 6,000-square-foot space on the 32nd floor of the 34-story Clark Tower as part of a renewed lease agreement.
"We initially chose this space three years ago because we love the views," Graham said.
Wunderman previously occupied space on both the 31st and 32nd floors but is combining those two offices together on the 32nd.
The lease agreement gives Wunderman the option to expand by another 3,000 square feet. Clark Tower is owned by In-Rel Properties.
The renovation will create a stand-up conference room that gives employees the ability to write on the walls and utilize a flat-screen TV for video conferencing with clients across North America and globally, Graham said.
Wunderman is also taking the opportunity to test new team collaboration office concepts.
Wunderman affiliate Young & Rubicam Inc. recently made a major move to Memphis, but Graham said Wunderman's growth is not directly tied to the $457 million contract with the U.S. Navy.
Wunderman Memphis leads a segment called Performance Media, focused on supporting clients across the country with digital media, site content and digital optimization.
With a nationwide client pool, Wunderman came to Memphis because of its large population of digital media and creative professionals, Graham said.
The Memphis office currently has a team of 40 employees and is preparing for growth.
"This is a testament to how great we feel the Memphis talent pool is and intend to hire," Graham said. "I wouldn't be surprised if we grew to 100 in the next three to four years."
Phil Dagastino Jr., a senior vice president at Cushman & Wakefield/CommercialAdvisors, represented Clark Tower in the lease agreement, and tenant advisor Kelly Truitt, senior vice president of CBRE Group Inc.'s Memphis office, represented Wunderman Memphis.