>
>
Clark Tower owner plans campus setting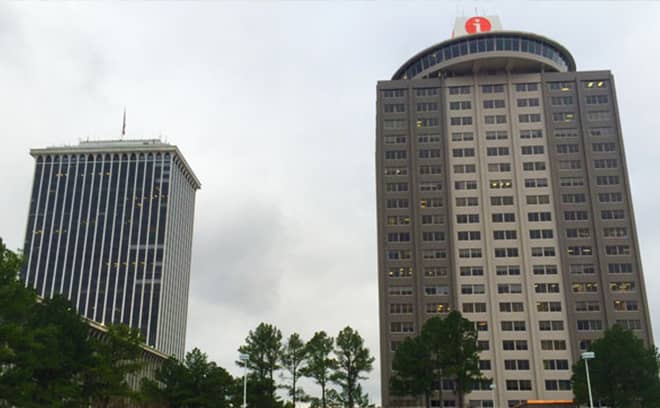 Clark Tower owner plans campus setting
By: Thomas Bailey Jr.
Clark Tower's owner has bought neighboring iBank Tower and plans to spruce up the acres of parking lots around the East Memphis landmarks with walkways to shops, stores and the restaurants on nearby Brookhaven Circle.
In-Rel Properties' recent purchase of the iBank building at 5050 Poplar means for the first time one company now owns the side-by-side office towers.
Putting the major properties under one owner eases the way for a broader plan by multiple, neighboring landowners to thread new walking paths across vast parking lots and to remove barriers that had made even a walk to lunch difficult.
In-Rel bought the 22-story iBank building from New Mexico-based Gemini Rosemont.  The new owner did not reveal the purchase price, which had not been posted by Wednesday afternoon on the websites of local government agencies.  Florida-based In-Rel already owned the 34=story Clark Tower.
The real estate firm now plans to create an 18-acre office campus around the buildings.  For months In-Rel executives also have been meeting with surrounding property owners to improve walking connections from Mendenhall to White Station between Poplar and Sanderlin.
Now, acres of parking lots, chain-link fences, traffic and other barriers divide the office towers, Whole Foods, Malco Paradiso, Sanderlin Centre, Double Tree by Hilton, Clark Centre and the restaurants and businesses on Brookhaven Circle.
Preliminary plans show various types of pedestrian connections will eventually be created to ease the way for, say, an office worker to walk to one of the dozens of restaurants clustered in the area.  In-Rel met with Fleming Architects and other property owners under the guidance of MEMfix, a city initiative designed to revitalize and improve storefronts in the neighborhoods of Memphis.
In-Rel will spend up to $1 million on improvements to iBank Tower in addition to about $6.5 million it has committed to Clark Tower upgrades. Clark Towers will be painted a color that complements the iBank Tower.
"When the iBank Tower opportunity presented itself, we saw exciting potential to double down on the Memphis office market and further invest in this part of East Memphis which has shown demonstrated growth in the last five years,'' Dennis Udwin said in a statement released by the company. He is founding principal of In-Rel Properties.
"From the increasing popularity of Brookhaven Circle to the high traffic that the new Whole Foods and Malco consistently generate, we recognized that this area has become the new Main and Main of Memphis, and owning both of these towers would in turn allow In-Rel to further strengthen our investment in the area and enhance the live/work/play environment for our tenants,'' Udwin said.
The occupancy rate at the 360,000-square-foot iBank Tower is 82 percent and is 70 percent in Clark Tower, according to Cushman & Wakefield/Commercial Advisors. The purchase increases the amount of office space In-Rel owns in Memphis to 1.27 million square feet. The real estate investment and management firm owns properties in six states.
Commercial real estate broker Phil Dagastino Jr. of Cushman & Wakefield/Commercial Advisors called the iBank purchase a "game changer'' for both buildings and the neighboring area.
"The shared amenities and abundance of shared parking offers tenants with higher density parking requirements significantly more flexibility,'' said Dagastino, senior vice president for Commercial Advisors.
Much like it has done at commercial districts throughout Midtown, Crosstown, Broad Avenue and South Memphis, MEMfix plans an event in March to demonstrate what it would be like to have better, easier and safer access for walkers in the area. The events include marking temporary walkways with paint and protecting walkers from traffic with temporary landscaping.
"We have been meeting with (property owners) a few months just to talk about short-term, low-ish cost improvements they could make to connect people in the site and some of the neighboring sites,'' said John Paul Shaffer, program director for Livable Memphis, which oversees the MEMfix events.
Although the area is suburban, it has "actually become a fairly dense environment,'' Shaffer said. Within the easy walking distance of a quarter-mile are the office towers, hotels, 45 restaurants and many other businesses.
"The problem out there is that the connections aren't clear,'' Shaffer said. "Lots of parcels kinda developed without any kind of a plan between them. All of them under separate ownership.''
Even though the area is among the city's highest generators of property taxes, "it could perform a lot better,'' Shaffer said.
Long-term, property owners may conclude that the surface parking lots are not the best use of the space, he said.
"Are there other things they can do to fill in a little more and provide even more density?'' he said.