>
>
Landlord 'doubles down' with investments in, around Clark Tower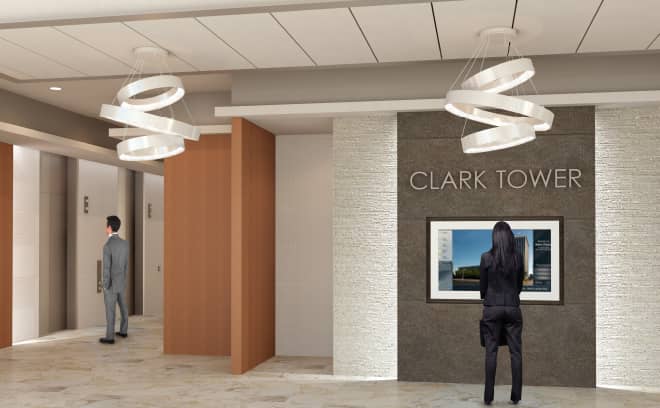 Landlord 'doubles down' with investments in, around Clark Tower
Date: March 10, 2016
The first concern for a business tenant located on the 28th floor of an office tower is that elevators be kept in good working condition.
That's according to Ron Lazarov, who, under previous landlords at Clark Tower, has had to wait up to 10 minutes for a working lift.
But with In-Rel Properties' ownership of the East Memphis landmark, the elevators have remained in good working order, said Lazarov. He and Marty Kelman have operated Kelman-Lazarov wealth management advisors on either the 28th or 31st floor since 1979.
"They've done everything they said they would do,'' Lazarov said of In-Rel.
"You take with a grain of salt what some owners might say and what actually gets done and how successful they are,'' Kelman said.
Clark Tower's current owner talks a good game about the building's place in the Memphis office market, but he's taking bold steps, too.
"I'm doubling down…,'' Dennis Udwin, president of In-Rel Properties, said last week.
His Florida-based firm not only is investing $6 million in a renovation of 44-year-old building, In-Rel also bought the sister building next door, iBank Tower, for $19.25 million on Dec. 30.
Now Udwin has the opportunity to transform two skyscrapers, surrounded by a vast hodgepodge of asphalt parking, into a cohesive office campus.
In-Rel supported last week's MEMfix East event, designed to demonstrate how commercial districts can be made easier and safer to walk in and more appealing to experience.
MEMfix leaders displayed a plan that would create walking paths that not only crisscross the acres of parking lots around the two towers, but connect to the restaurants and stores that flank the buildings.
Udwin describes the current conditions as a "concrete jungle.''
"It's a good thing for Memphis, not only for my selfish reasons, to clean up that entire area,'' Udwin said. "… I'd like to make some more green areas.''
Formerly known as White Station Tower, the 22-story iBank Tower is 80 to 85 percent occupied, Udwin said, adding that Clark Tower is about 65 percent occupied.
Clark Tower is getting an extensive makeover in addition to the recent $2 million renovation of the heating and cooling systems, Udwin said.
The project also involves a redo of the lobby. "That green downstairs is kind of a thing of the past,'' Udwin said. "… All the green will be gone, completely paneled over.''
The dozen elevator cabs have already undergone a mechanical renovation and are getting a decorative make-over.
The third-level is being renovated as a model floor. The work encompasses the common areas and bathrooms.
And outside, Clark Tower will soon be repainted light beige, complementing iBank Tower and bringing more cohesion to the campus. The lighting is also being improved.
In-Rel charges $18.50 to $20 per square foot for Clark Tower space, far below the $30-plus now commanded by the cluster of Class A office buildings a few miles east, near I-240. But Udwin says there's a market for strong Class B space.
Lazarov and Kelman believe that by taking some matters into their own hands, they enjoy 4,500 square feet of Class A space with a terrific view on the 28th floor.
"We developed our own space with nice decorations and nice furnishings,'' Kelman said. "We feel like we're an oasis within a B-plus building.''