>
>
EXCLUSIVE: Downtown Louisville office tower to be acquired by Florida investor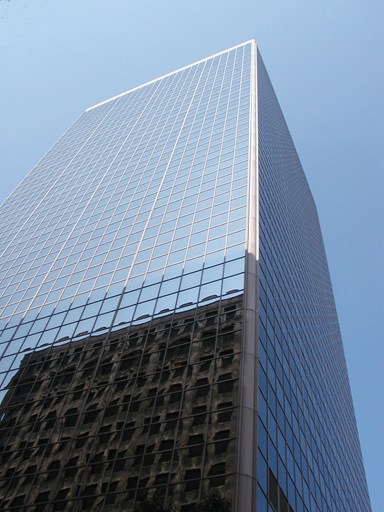 EXCLUSIVE: Downtown Louisville office tower to be acquired by Florida investor
Louisville, Kentucky
By: Marty Finley
A Florida real estate investment firm has one of Louisville's largest downtown office towers under contract and should close on the acquisition later this month. Kirk Cypel, CEO of Lake Worth, Fla.based In-Rel Properties, said his firm plans to close on the purchase of the 26-story Meidinger Tower on South Fourth Street by late April. The current owner is New York-based DOF IV Meidinger Tower LLC, which purchased the tower in 2013 for $16.6 million in a foreclosure sale. Cypel declined to disclose the negotiated purchase price. The building ranked sixth on Louisville Business First's largest office buildings list for 2016 based on leasable square footage, with roughly 331,000 square feet.
The building has a mix of professional firms and technologically inclined companies, including Computershare Inc., Mountjoy Chilton Medley LLP, River Road Asset Management LLC, Northwestern Mutual and Seiller Waterman LLC. Louisville Business First also is a tenant. The tower is managed by Louisville-based NAI Fortis Group, which will be retained by In-Rel Properties as property manager if the deal goes through, Cypel said. "They've done a good job with the building," he said. Jon Seiz, president of NAI Fortis Group, said the building is 96.7 percent leased. This will be In-Rel's first Louisville acquisition, but second in Kentucky. The firm owns the 238,000-square-foot Chase Tower in downtown Lexington.
Cypel said his firm feels strongly about the Louisville market as it has watched it evolve over the past several years. He said the city is moving in an interesting direction with the completed construction of the Ohio River Bridges Project, the renovation and expansion of the Kentucky International Convention Center downtown and new hotel and residential developments in the works.
Meidinger Tower's position next to the Fourth Street Live entertainment complex also is a plus, with Cypel noting that real estate is all about location. "It's just an exciting place to be. I just think it's only going to get stronger," Cypel said of Louisville. "I wish there was more of a residential component downtown, but I think it's coming." Cypel also pointed to Louisville's historic architecture and a push by developers to creatively reuse several downtown buildings for office, retail and other uses as a draw to the market. Furthermore, he praised the strong tenant mix inside Meidinger Tower, calling it a stabilized tower with no need for major renovations. "The bones of the building are very good," he said. Because the building has received a refresh in recent years, he said his firm's goal is to maintain the quality of the tower and assess it each year for possible tweaks.
In-Rel has more than 3 million square feet of commercial space in its portfolio, which ranges from stabilized properties in the vein of Meidinger Tower to older properties that require renovations. The company operates in Alabama, Georgia, Florida, Kentucky, Oklahoma and Tennessee. Cypel said In-Rel owns office, retail and some residential properties in cities such as Memphis, Tenn.; Birmingham, Ala.; Oklahoma City; Tampa, Fla.; and Fort Lauderdale, Fla., and is opportunistic about expansion into new cities if the deal makes sense. He said the company evaluates each deal by the quality of the real estate, not what sector it fits into. "You don't grow for the sake of growth," he said. "You grow when you find great opportunities." The company stays away from what Cypel called "gateway cities," such as New York, Chicago and Washington, D.C. In those cities, he said, the institutional players are deeply entrenched and are throwing "silly money" around on real estate. Louisville, in comparison, is a less-volatile market that doesn't see the dramatic ups and downs of a giant city. "You can make a living (here) and don't have to compete with the world," he said.