>
>
Downtown Louisville office tower sells for $32M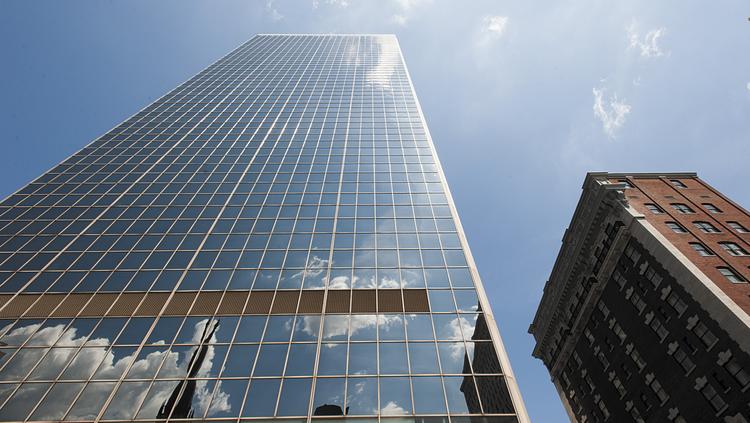 Downtown Louisville office tower sells for $32M
April 26, 2017
By:  Marty Finley
The sale of the 26-story Meidinger Tower is final.
Florida-based In-Rel Properties has closed on the property in a $32 million deal. The seller was an affiliate of New York-based real estate investment firm Torchlight Investors, which has acquired more than $20 billion in commercial real estate debt investments since its inception.
The Class A office tower at the corner of Fourth Street and Muhammad Ali Boulevard exceeds 331,000 square feet and is 97 percent leased. The building has a mix of professional firms and technologically inclined companies, including Computershare Inc., Mountjoy Chilton Medley LLP, River Road Asset Management LLC, Cotiviti and Seiller Waterman LLC. Louisville Business First also is a tenant.
The tower is managed by Louisville-based NAI Fortis Group, which will be retained by In-Rel Properties as property manager, In-Rel CEO Kirk Cypel recently told me.
Holliday Fenoglio Fowler L.P. and NAI Fortis Group partnered to market the property for sale on behalf of Torchlight Investors, which bought Meidinger Tower for $16.6 million in a foreclosure sale in 2013.
The Holliday Fenoglio Fowler team was led led by managing director Ralph Smalley and senior managing director John Merrill. Mark Wardlaw and Lenisa Alvey were the leads on the sales process for NAI Fortis Group, according to a news release.
"Louisville is a vibrant city with its own unique character, combining aspects from both Midwestern and Southern cultural influences," Merrill said in the news release announcing the sale. "As a result, Meidinger Tower, with its outstanding location within the heart of the city, was attractive to investors from throughout the Southeast and Midwest."
The building was renovated in 2006 and Cypel told me has no immediate renovation plans in mind. Instead, the new owner will maintain the property and review it regularly for possible upgrades.
In-Rel has about 3.5 million square feet of commercial space in its portfolio, which ranges from stabilized properties in the vein of Meidinger Tower to older properties that require renovations.The company operates in Alabama, Georgia, Florida, Kentucky, Oklahoma and Tennessee.
Cypel said In-Rel owns commercial properties in cities such as Memphis, Tenn.; Birmingham, Ala.; Oklahoma City; Tampa, Fla.; and Fort Lauderdale, Fla., and is opportunistic about expansion into new cities if the deal makes sense. He said the company evaluates each deal by the quality of the real estate, not what sector it fits into.
Cypel told me before the deal closed that his firm feels strongly about the Louisville market as it has watched it evolve over the past several years. He said the city is moving in an interesting direction with the completed construction of the Ohio River Bridges Project, the renovation and expansion of the Kentucky International Convention Center downtown and new hotel and residential developments in the works.
Meidinger Tower's position next to the Fourth Street Live entertainment complex also is a plus, with Cypel noting that real estate is all about location.
"It's just an exciting place to be. I just think it's only going to get stronger," Cypel said.
This is In-Rel's first Louisville acquisition, but second in Kentucky. The firm owns the 238,000-square-foot Chase Tower in downtown Lexington.