>
>
Louisville's Kaden Tower gets a facelift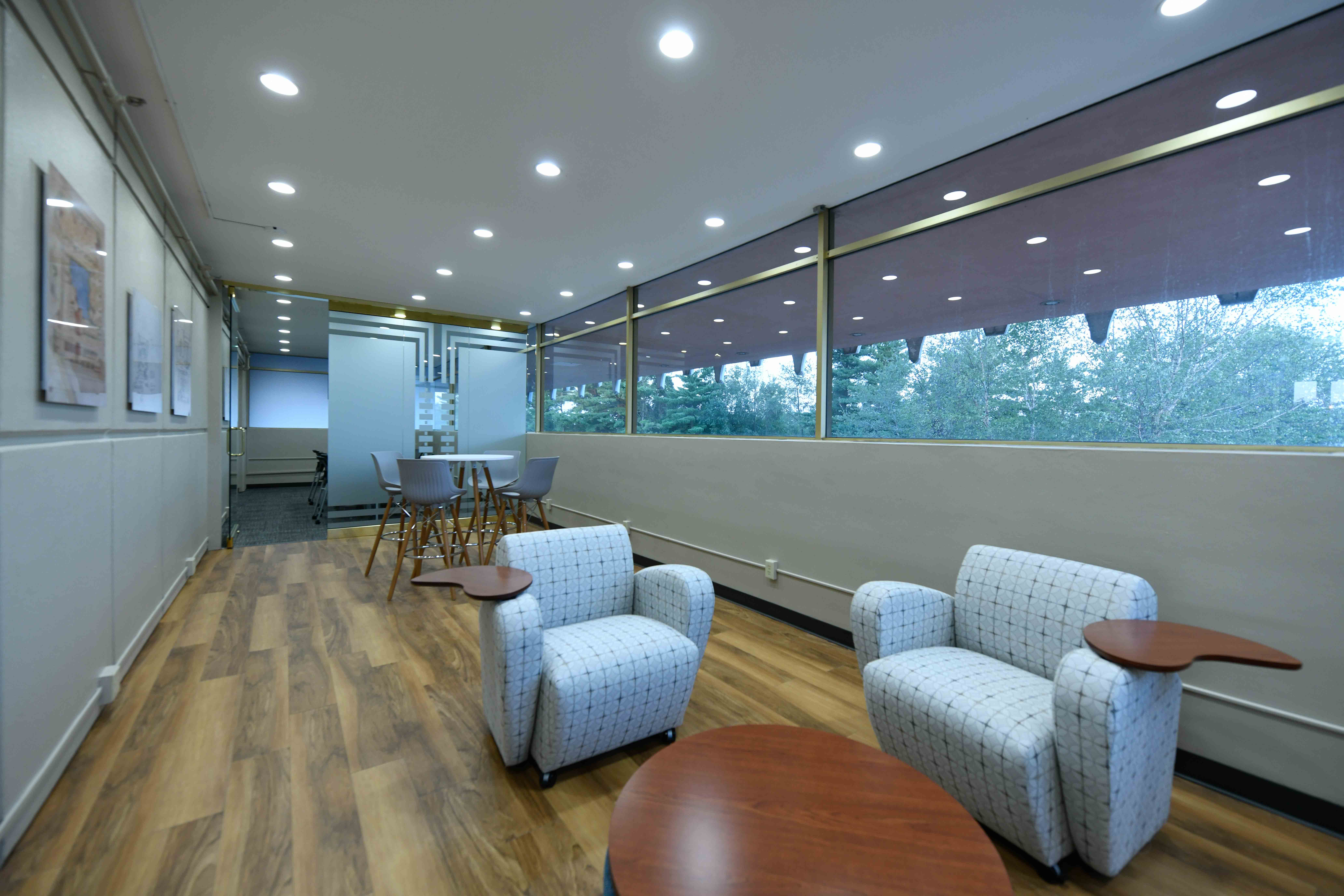 Louisville's Kaden Tower gets a facelift
Date: October 22, 2019
By Marty Finley  – Reporter, Louisville Business First
The well-known Kaden Tower on Dutchmans Parkway in St. Matthews has received a needed refresh while retaining its historic character, according to its new owners.
Florida-based In-Rel Properties has completed a roughly five-month renovation project to the tower's vestibule, lobby and second floor, which includes a shared amenity space that features a conference center and a collaboration room.
The lower level also includes an event space that is used for weddings and other events, said Mark Wardlaw, senior vice president of brokerage and business manager for Louisville-based NAI Fortis Group. NAI Fortis is the property manager and leasing agent for Kaden Tower.
You can see images of the renovation in the attached gallery.
"From our standpoint, we have an owner that, by purchasing Meidinger Tower, committed to this market and is very positive about Louisville as an office market," Wardlaw said of In-Rel. "They were looking for a unique opportunity to expand their portfolio. Kaden Tower provided that unique property."
Dennis Udwin, an architect and founding principal of In-Rel Properties, said it was love at first sight when he saw Kaden Tower in person. The building was based on a Frank Lloyd Wright design, and Udwin said he is a huge fan of his work. Getting his hands on a building Wright helped design was a once-in-a-lifetime opportunity.
"The challenge was, for me, I wanted to refresh and reposition the asset but keeping it as a masterpiece and keeping it in the original scope. This is an historic building," he said.
That meant bringing out some of the accents and making it more relevant to the modern times with new lighting, painting, handmade furniture and art from the time period the building was constructed, he said.
Udwin estimated the company spent about $500,000 on the renovation.
In-Rel Properties acquired the 16-story tower at 6100 Dutchmans Lane last November from longtime owner Kaden Cos. of Louisville. The purchase price was $10.5 million.
The tower had been on the market for a few months and drew widespread interest from around the country as well as prospective local buyers. Kaden Cos. wanted to sell the building to redeploy the capital into some other ongoing projects.
Kirk Cypel, CEO of In-Rel Properties, said last year that the company was bullish on Louisville through its ownership of Meidinger Tower downtown and could not pass up the opportunity to buy another landmark office asset on Louisville's East End.
"The longer we've been in Louisville, the more we like the market," Cypel said.
Kaden tower houses 115,530 square feet and is 98 percent occupied. The largest tenant is Louisville-based PharmaCord, and other major tenants include the Alzheimer's Association, Keller Williams Realty and Ruth's Chris Steak House.
Cypel indicated last year that some renovations were coming.
"You buy a new house, you come in and want to change something," he said.
Founded in 1984, In-Rel is a real estate investment and management firm that owns a series of office and retail properties in about half-a-dozen states, including Kentucky and Tennessee, according to its website. Cypel said last year that the In-Rel portfolio features more than three million square feet of commercial properties.