>
>
Not Your Father's Office Building Clark Tower Upgrades Are More Than Cosmetic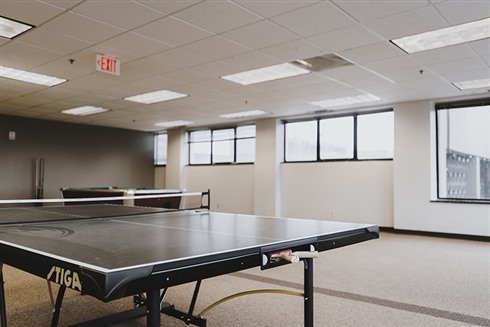 Not Your Father's Office Building Clark Tower Upgrades Are More Than Cosmetic
Not Your Father's Office Building
Clark Tower Upgrades Are More Than Cosmetic
By Patrick Lantrip
2017 was a big year for Clark Tower, with more than $9 million in physical improvements. But perhaps one of the biggest changes to the 34-story East Memphis office tower, located at 5100 Poplar Ave., is a change in perception.
"We've added a fresh perspective," said Kirk Cypel, CEO of Lake Worth, Florida-based In-Rel Properties, which has owned Clark Tower since 2003. "We are starting a photographic art program and planning a series of educational and entertainment events to make greater use of our property."
Since the needs and wants of today's office users aren't exactly the same as they were when the 668,505-square-foot East Memphis tower was built in 1973, Cypel and In-Rel knew that upgrades would need to be more than just skin deep.
"It seems like the only constant in our world is change," he said. "With everything moving so quickly, the strongest (market) trends reflect basic human needs for stability, flexibility, convenience, comfort and value. We seek a stable environment but also the flexibility to modify that environment as needs evolve."
The multimillion-dollar renovation of Clark Tower, which wrapped up last May, included upgrades to the front entry, lobby, common areas and restroom finishes; the addition of a 60-person conference room; a new marquee entry on the south side of the building; pedestrian walking paths connecting to nearby retail; and behind-the-scenes work, such as upgrades to the elevators as well as the heating, ventilation and air-conditioning system.
A recently launched branding campaign, "Meet the New Clark," touts the upgrades on a new website, meetthenewclark.com.
Colliers International, which was tapped in January 2017 to handle leasing for In-Rel's 1.3 million-square-foot local portfolio – which also includes Lynnfield Office Park, the 2400 Poplar Building, and the 23-story i-bank Tower, located adjacent to Clark Tower at 5050 Poplar Ave. – has inked several leases since the renovations wrapped up.
Memphis-based First Alliance Bank signed a 10-year lease in early August to relocate its Poplar Avenue branch into a 4,000-square-foot space adjacent to the Clark Tower lobby.
And in late August, The Partners Group, a new company formed when the Memphis arm of MassMutual merged with Nashville-based Capital Financial Group, inked a lease for the entire 23rd floor – totaling some 17,000 square feet.
Cypel said he has noticed increased interest from smaller, more diversified prospective users, too.
"Over the past year, we've seen a number of tenants in the 1,000- to 5,000-square-foot range come to the property," he said. "Historically, we've made a home to professional firms in the accounting, insurance, investment, finance and legal fields, but it seems that the Memphis business environment is evolving and we're seeing interest from all kinds of entrepreneurial businesses that are looking for a high-profile office location at affordable lease rates."
Cypel said that interest is driven in part by the fact that Clark Tower offers a portfolio of amenities that smaller tenants simply can't get at smaller properties, which is why they have begun to keep a number of "move-in ready" suites for entrepreneurial companies who need quality office space right away.
A second paradigm shift Cypel has noticed affecting the tenant makeup in Clark Tower is the eastward movement of the city's density.
"Like many cities, Memphis has experienced a shift in its center of gravity," he said. "For example, the center of Dallas has shifted north towards Plano. Similarly, the center of Memphis has shifted to the east and Clark Tower, at Poplar Avenue and I-240, is pretty much the center of everything. While East Memphis is east of Downtown, East Memphis is the center of our city."
Clark Tower marked In-Rel's entry into the Memphis market in 2003. The company later purchased Lynnfield Office Park and the 2400 Poplar Building, and in late 2015, it acquired the 23-story i-bank Tower, located adjacent to Clark Tower at 5050 Poplar Ave.
Colliers International was tapped in January 2017 to handle leasing for In-Rel's local portfolio, which totals 1.3 million square feet.
Ron Riley, senior vice president for Colliers International, said Clark Tower is a perfect fit for any business, large or small, that wants a central, convenient location.
"Every conceivable amenity is either located on-site or within a five-minute walk," Riley said.
"The improvements have truly brought the building into the 21st century. No other building in the city is more recognizable and can stack up amenity to amenity. When you couple that with the overall great value, we believe it is the place to office."