>
>
200 Lake Avenue Case Study – from Old to New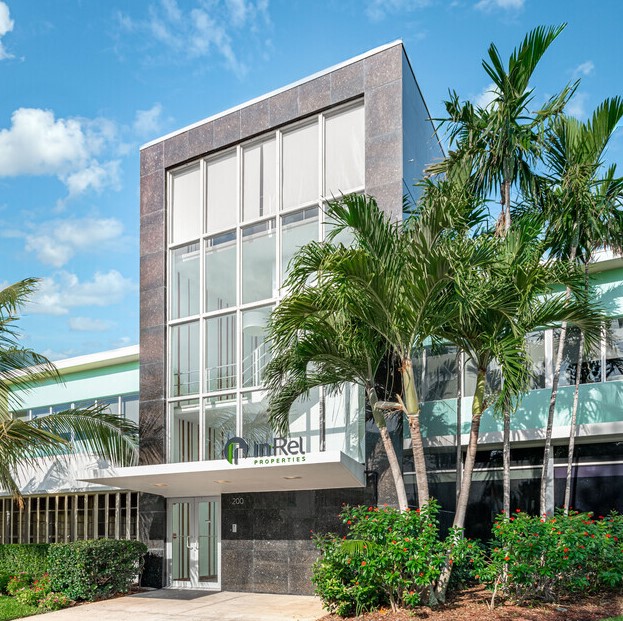 200 Lake Avenue Case Study – from Old to New
Date: August 2, 2022
In August of 2018, In-Rel Properties purchased a two-story structure of approximately twelve thousand square feet at 200 Lake Avenue in Lake Worth Beach, Florida. A multi-million dollar renovation ensued reimagining the old Chase Bank Building into In-Rel's new South Florida company headquarters. Lake Worth was already home to the company for over 20 years, but the property they had been occupying was sold and a move was necessary.
With its mid-century modern design, and convenient location near downtown Lake Worth's shops and restaurants, 200 Lake was an easy choice despite the building needing numerous repairs and upgrades. Architect, Juan Contin, was hired to create a modern and sleek work environment out of a 1950's art deco era building. Out of respect for the old Florida vibe omnipresent in the neighborhood, the exterior esthetic reflects  the beachside town in which it was built. Muted tones of sea grass and yellow adorn the white stucco exterior and abundant landscaping preserves the artsy feel of the local culture. The interior, however, is a vision of modernity with black exposed ceilings, gray cement flooring, glass walls and open workspaces. Homage was paid to the original design by keeping the authentic terrazzo floored staircase, which makes an artful contrast as one enters the modern reception area.
After almost one year of renovations, In-Rel moved into the second floor, and a tenant was placed on the first floor. The first floor still has the old Chase Bank vault intact amidst the tenant's modern office furniture – two moments in time working in harmony. Tenants at 200 Lake Avenue enjoy new HVAC units, lush landscaping, and a full-size whole building power generator. Please see the below before and after photos which reflect the large-scale effort taken by In-Rel to re-design 200 Lake Avenue into the architecturally pleasing and practical workspace it is today.