>
>
Clark Tower Case Study – Part I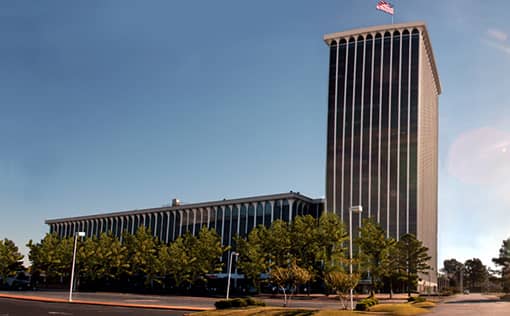 Clark Tower Case Study – Part I
Date: September 27, 2016
SITUATION
Built in 1971 Clark Tower is an iconic 34-story, 650,000 SQ FT office building. It was intended originally to be part of a large, interconnected, mixed-use development project, establishing a strong destination in the East Memphis suburban market. These plans were never fully realized.
In 2003 In-Rel Properties acquired Clark Tower. In-Rel's history with this property underscores the company's philosophy of making strong commitments to its buildings and surrounding neighborhoods. Significantly, at the end of 2015, In-Rel purchased iBank Tower, an adjacent 34-story building, representing a major step towards creating a unified office campus and fulfilling the original dream of making this location the lead commercial center for this community. Like many vintage properties, Clark Tower was showing some signs of age. To date In-Rel has invested millions of dollars in cosmetic and mechanical upgrades for this property. In 2016 the company is completing a major facelift to modernize the building's appearance and enhance its competitive position.
DEVELOPMENT
To create the new Clark Tower, In-Rel commenced an extensive capital improvement project in 2015, updating mechanical systems, improving the attached secured parking garage, and modernizing finishes in the lobby, elevators and common areas. The third floor renovation is now complete (see before and after photos). Work is in progress on the 12 elevators and the lobby décor where 50-inch digital directories will guide visitors to the property. Behind the scenes, the building will have a new roof, air conditioning equipment, and the exterior will be painted. The new chiller equipment and cooling towers will be significantly more efficient and new LED lighting has been added to maximize energy efficiency. In addition, (5) Carlisle White TPO roofs were installed which are Energy Star qualified and certified by the Cool Roof Rating Council. These roofs are reflective of the sun's heat, making it easier on the HVAC system to maintain coolness inside the building.
In addition to Clark Tower, there are exciting new developments for the campus and surrounding areas. Under the guidance of MEMfix, a city initiative designed to revitalize and improve storefronts in the neighborhoods of Memphis, In-Rel is also working with neighboring landowners to thread new walking paths across vast parking lots to create an 18-acre office campus around Clark Tower, the iBank Tower and nearby buildings. By eliminating barriers, pedestrians will have easy access to the shops, stores and restaurants on nearby Brookhaven Circle. This transformation will make the new Clark Tower part of a unified pedestrian-friendly area in an extremely valuable location. The location of Clark Tower has never been stronger with its close proximity to Whole Foods, Home Depot, Malco Paradiso, Double Tree by Hilton, Clarke Centre and Sanderlin Centre.
VALUE CREATED
Since acquiring Clark Tower, In-Rel has created value through capital investment, contributions to tenant improvements, and leasing. The extensive, multi-million dollar renovations to both Clark Tower and iBank Tower, along with the pedestrian friendly atmosphere supported by our company, have brought an increased awareness of the Clark Tower not present in years. Clark Tower offers professional tenants a choice: a landmark address, flexible floor plates, ample covered parking and unparalleled amenities in the Memphis market.